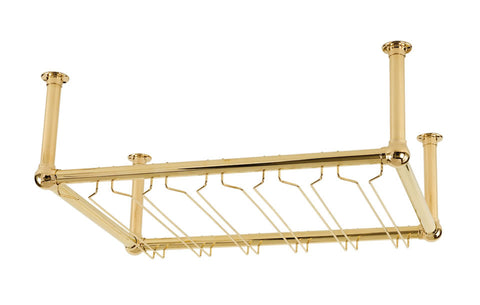 Commercial Stemware Racks and Stand-Alone Tracks.
Full stemware racks come with 1.5" tubing with ball fittings.  Available online in Polished Brass, Satin Stainless Steel and Mirror Polished Stainless Finishes.   Standard sizes are 2' by 4' nominal and 2' by 6' nominal with 18.5" tracks.  Actual size is 20" by 48" and 20" by 72", respectively..  Also available in custom sizes and finishes by calling 877-747-2457.
Individual tracks available in a variety of sizes and finishes.
At 4rails.com, we are proud to offer the best stemware racks for bars and handrails, available in an impressive range of finishes, including polished stainless steel, satin stainless steel, polished brass, satin brass, black, bronze, copper, and more. Our collective passion for excellence drives us to provide stemware racks that excel in both style and functionality. We understand the significance of efficient storage and easy accessibility of stemware in bar settings, which is why we meticulously design each rack to securely hold wine glasses and other stemware with ease. With our diverse selection of finishes, customers can effortlessly find the perfect stemware racks to complement their bar's design, adding an element of elegance and sophistication. Whether it's a modern, rustic, or classic ambiance, our stemware racks are crafted to perfection, offering both durability and aesthetic appeal. When it comes to finding top-notch stemware racks that seamlessly combine style and practicality, 4rails.com stands as the ultimate destination, catering to the diverse needs of customers and enhancing the overall bar or handrail experience.