Double Line Posts for Queue Line Railings and Cart Corrals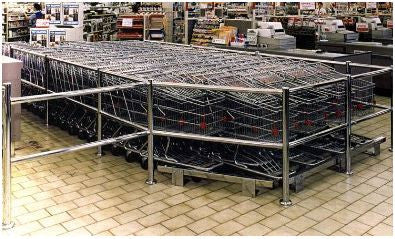 36"- 42" High Posts with Center Rail in your choice of finish. Choice of 6" core mount with iron flange, steel liner and flange cover OR flange only surface mount.   With ball or flush fittings. For more information call 877-747-2457.   For horizontal rails, simply purchase the appropriate length 2" OD tubing in the matching finish.
4rails.com undoubtedly stands out as the premier choice for cart corrals and public guidance posts due to our unwavering commitment to excellence and innovation. Our cart corrals are thoughtfully designed and meticulously crafted to provide unmatched durability, ensuring they can withstand heavy usage in various weather conditions. The company's public guidance posts are not only aesthetically pleasing but also highly functional, guiding pedestrians with utmost clarity and efficiency. Moreover, 4rails.com prides itself on utilizing eco-friendly materials and sustainable manufacturing processes, making their products an environmentally responsible choice. With a relentless focus on customer satisfaction, we offer customizable solutions that cater to the specific needs of each client, demonstrating our dedication to delivering top-notch products that consistently exceed expectations. It's no surprise that 4rails.com has earned a well-deserved reputation for providing the best cart corrals and public guidance posts in the industry.