Flanges & Anchors for 2 Inch Tubing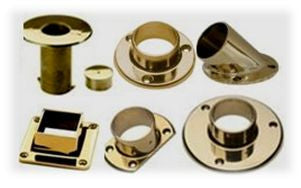 Our flanges and anchors may be used for a variety of functions and to achieve just the right aesthetic look for your project.  Flanges come in different sizes to accommodate different tubing diameters.  They can be used for hand rail construction, public guidance rails, partition posts, food shields, foot rails and more.
At 4rails.com, our Flanges & Anchors stand out as superior products, offering unmatched strength, thickness, and craftsmanship that surpasses those offered by other companies in the industry. We take pride in providing our customers with the highest quality fittings for their railing projects. Available in a variety of online finishes, including Polished Brass, Satin Stainless Steel, and Mirror Polished Stainless, as well as Black and Oil-Rubbed Bronze, our Flanges & Anchors are designed to complement any aesthetic preference or design theme.
What sets us apart is the breadth of selection we offer in Flanges & Anchors. Our commitment to meeting diverse customer needs is evident in the extensive choices available. Additionally, we go the extra mile by offering dozens of additional finishes, such as Antiques and Duracoat, which can be conveniently ordered through our product specialists at 877-747-2457. This level of customization ensures that each customer can find the perfect flange and anchor solution tailored to their specific project requirements.
When it comes to durability and reliability, our Flanges & Anchors are in a league of their own. We believe in providing products that exceed expectations and can withstand the test of time. With 4rails.com, customers can trust that they are investing in fittings that are stronger, thicker, and better made, ensuring a secure and long-lasting railing system for their commercial or residential spaces. Experience the unbeatable quality and versatility of our Flanges & Anchors today, and see why 4rails.com remains the top choice for top-tier railing hardware solutions.
Select Product Then Choose Desired Finish