Oil-Rubbed Bronze Collection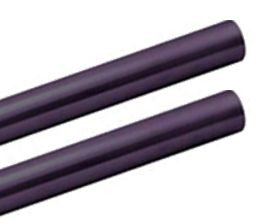 Note: Brackets and end caps shown in pictures are for illustrative purposes only.  Every package comes with a selection of brackets and end caps.  The brackets and end caps you select are the ones that will be delivered with the package.

READY- TO INSTALL Bar Foot Rails include brackets, screws, splices and end caps for bars with a single side OR multiple sides not connected with elbow fittings.
IMPORTANT: ATTEMPTING TO CONNECT KITS USING ELBOWS FOR MULTIPLE-SIDED BARS MAY RESULT IN IMPROPER LENGTH TUBING AND BRACKET SPACING FOR YOUR APPLICATION
Foot Rail Kit Sizes Are Measured From End of End Cap to End of End Cap on Opposite Site. The total length with end caps attached is nominal but is accurate to the total length ordered +/- approx. .5".
Virtually every item we offer is available in OIL-RUBBED BRONZE and EVERY other finish we offer.  So if you don't see it online in the finish you want, just give us a call. That said, even though we already have the broadest selection of oil-rubbed bronze foot rail products on the Internet, we' re adding to our substantial online selections, almost daily. 
As always, we try to give you exactly what you need with as little waste as possible.  So, for example, our online oil-rubbed bronze tubing is available cut to the inch in lengths of up to 8'.  We're not going to ask you to purchase in lengths you don't want or need. If you order by phone our oil-rubbed bronze tubing is available cut to 1/16 of an inch in lengths up to 12' long.
4Rails.com online oil-rubbed bronze fittings, brackets and flanges are exactly the same commercial-grade products that we sell to hotels, casinos, restaurants, etc.  They are the best value you'll find on or off the web with better quality finishes and material and of course, BETTER EVERYDAY PRICES!
Remember:  The items below are most common for foot rail applications and available online but if you don't see what you need, EVERY PRODUCT WE CARRY MAY BE ORDERED  IN OIL-RUBBED BRONZE OR ANY OTHER FINISH!   877-747-2457
ALL PRODUCTS ARE SUITABLE FOR INTERIOR OR EXTERIOR APPLICATIONS.