Ball Cross 1.5" - All finishes
has a rating of stars based on reviews.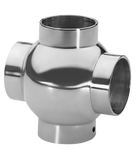 SALE
CLICK IMAGE AND SCROLL FOR PRODUCT SPECIFICATIONS
Ball Cross 1.5" - All finishes
CFM Certified Heavy Duty Commercial Grade
Chrome/Oil Rubbed Bronze and Matte Black finishes are done to order and require additional fabrication time.
The ball cross provides an easy way to join three or four tubes to one another.  Perfect for applications such as hand rails, booth partitions, food shields, cart corrals and public guidance rails, the ball cross offers a traditional look and outstanding support.  Simply insert the tubing into each opening of the ball cross for a snug fit and fast assembly.  The ball cross will hold securely when screwed to the tubing.  For added strength a metal adhesive/epoxy may be applied.  The ball cross is a "pass-through" fitting, so tubing can slide completely through the fitting, horizontally or vertically.
As with all of 4rails.com products, the ball cross is available in ANY finish and in a variety of sizes to fit most tubing. The larger neck and heavier material of our commercial-grade ball cross is ideally suited for the most demanding applications and will provide superior support when compared to less substantial products. 
Use the ball cross in conjunction with other ball fittings, such as ball ends, single outlet balls, 135 degree ball elbows, 90 degree ball elbows or universal angle balls for a uniform look and to securely connect tubing for virtually any application.
The ball cross is suitable for both interior and exterior use.
Ball Cross 1.5" - All finishes
has a rating of stars based on reviews.