Foot Rail Bar Bracket 2.0" - All finishes
has a rating of
4.9
stars based on
7
reviews.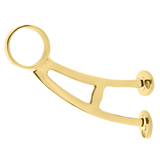 SALE
CLICK IMAGE AND SCROLL FOR PRODUCT SPECIFICATIONS
Foot Rail Bar Bracket 2.0" - All finishes
CFM Certified Heavy Duty Commercial Grade
The standard bar bracket for foot rails is particularly well-suited for foot rails in which flexibility in the mounting height of the bar foot rail is important.  The unique design of the bar bracket provides excellent support while permitting unlimited height adjustment of the bar foot rail from approx 6" to any height desired.
Foot rail bar mount brackets from 4rails.com are available in ANY finish to match the tubing and other components you select for your bar foot rail application.  4rails.com bar brackets are heavy-duty and constructed from the highest quality metal alloys and unlike inferior quality products, 4rails.com bar brackets are suitable for both indoor and exterior applications, regardless of the finish you choose. 
Foot Rail Bar Bracket 2.0" - All finishes
has a rating of
4.9
stars based on
7
reviews.
Quality products; excellent personal service; prompt and rapid shipping
It looks beautiful and was easy to install. Fits perfectly.
Exactly what I was looking for.
I wanted a face mount so I could get the rail up higher than usual for a short person (my wife).