Foot Rail Floor Bracket 1.5" - All finishes
has a rating of
5.0
stars based on
1
reviews.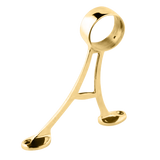 SALE
CLICK IMAGE AND SCROLL FOR PRODUCT SPECIFICATIONS
Foot Rail Floor Bracket 1.5" - All finishes
CFM Certified Heavy Duty Commercial Grade
Oil-Rubbed Bronze and Matte Black Finishes require extra time for fabrication
The standard floor mount foot rail bracket is a great choice for bar foot rail applications in which mounting to the face of your bar is not an option or when flexibility with respect to the distance of the foot rail from the bar face is an important consideration.
4rails.com floor mount foot rail brackets feature larger floor pads that provide superior mounting support and stability.  Although most typically mounted so that the bracket angles away from the bar face, the floor bracket may also be mounted the opposite way to provide the ultimate flexibility in the distance of your foot rail from the bar face - from near 0" to whatever distance you require.
Foot rail floor mount brackets from 4rails.com are available in ANY finish to match the tubing and other components you select for your bar foot rail application.  4rails.com floor brackets are heavy-duty and constructed from the highest quality metal alloys and unlike inferior quality products, 4rails.com bar brackets are suitable for both indoor and exterior applications, regardless of the finish you choose. 
Foot Rail Floor Bracket 1.5" - All finishes
has a rating of
5.0
stars based on
1
reviews.
Excellent quality. Beautifully polished.