Foot Rail Combination Bracket 1.5" - All finishes
has a rating of
5.0
stars based on
2
reviews.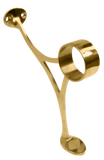 SALE
CLICK IMAGE AND SCROLL FOR PRODUCT SPECIFICATIONS
Foot Rail Combination Bracket 1.5" - All finishes
CFM Certified Heavy Duty Commercial Grade
Oil-Rubbed Bronze and Matte Black Finishes require extra time for fabrication
The Combination Bracket is among the more preferred brackets for supporting a foot rail. One arm of the combination bracket screws to the face of your bar, kitchen island or wall.  The other arm only rests on the floor, so there is no need to drill holes or screw into the floor. Your foot rail remains stable and is placed at a comfortable height for standing or sitting.
The unique  design of the combination bracket utilizes the floor to support all of the weight of the foot rail yet there is no need to screw or damage the floor in any way. Our commercial-grade combination bracket has a larger floor base-pad and is ideal for use on hardwood, tile, bamboo, low-pile carpet, marble and concrete.  Virtually any hard, flat surface provides an excellent base.  It is a strong, yet elegant looking bracket with clean lines that will enhance any bar.
Our commercial-grade combination bracket is suitable for normal or high use applications in homes, restaurants, casinos, hotels. etc.   All are suitable for interior or exterior use.
As with all of our products, the combination bracket is available online in a variety of finishes and in any of our specialty finishes by phone.   Typically ships same day as ordered.
If you don't see the finish you want online, please call 877-747-2457.
When using the combination bracket, you should be aware of the height of the mounting plate on the bar wall.  It's important to make sure that there is no molding or other obstacles that may interfere with installation.  You can view the dimensions by clicking on the image icon beneath the bracket's photo.

If there's nothing that will prevent proper mounting, the combination bracket is a great choice that will enhance the beauty of your bar and provide support for your foot rail for the life of your bar.



Foot Rail Combination Bracket 1.5" - All finishes
has a rating of
5.0
stars based on
2
reviews.
The materials and instructions were quite adequate. however, you need to tell people that an extension with an impact driver would be very helpful because you need to be careful on the phillips head screws. they are very soft material and do not hold up well if you are at any angle with the **** tip. using stainless steel materials but very soft **** material. Given the price, high end stainless steel screws would have been very much appreciated. Other point is that for the floor/feet brackets, which are nice but you did NOT send the set screws to be used to secure the foot to the rail. required a trip to a well stocked hardware store.
Hi Jerry: Sorry you had some difficulty installing the wood screws on your bar face. They are made of the same #304 stainless as the tubing and if holes were pre-drilled, as recommended, there is typically no issue with the mounting. In general , impact screwdrivers should not be used in lieu of drilling and should never be used on pre-drilled holes. It is likely that the instructions that came with your impact screwdriver included that information in its user manual. Whether or not you needed an extension on your screwdriver is more a function of the size of the screwdriver than the position of the screws. We're sure you would agree that it is never a good idea to use a screwdriver bit that cannot be positioned in a straight line with the screw. The 'bit' will win every time.
Regarding the set screws, our packing slip does show set screws were included and the contents are double checked before leaving our facility. Nevertheless, mistakes do happen and that is why the very first paragraph of our installation guide states, ' If you're having any difficulty at all, PLEASE CALL US.'. Again, we're very sorry that you experienced any difficulty but I can assure you that we would have acted quickly to assist you, if we had been contacted.