Foot Rail Swing Leg Bracket 1.5" - All finishes
has a rating of
4.3
stars based on
3
reviews.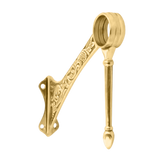 SALE
CLICK IMAGE AND SCROLL FOR PRODUCT SPECIFICATIONS
Foot Rail Swing Leg Bracket 1.5" - All finishes
CFM Certified Heavy Duty Commercial Grade
Swing Leg Bracket 1.5" Chrome, Oil-Rubbed Bronze and Matte Black Finishes require extra time for fabrication
The foot rail swing leg bracket has become a highly favored choice among designers and homeowners alike, thanks to its practicality and versatility. These innovative brackets offer a unique swinging mechanism that allows the foot rail to be easily lifted, making cleaning and maintenance a breeze. With a sleek and contemporary design, the swing leg bracket seamlessly complements various interior styles. To cater to diverse preferences, they are available in a wide range of popular finishes, including brushed stainless steel, polished chrome, and matte black. This array of finishes enables users to effortlessly match the brackets with their existing décor or create a bold statement piece. Whether used in residential settings, such as home bars or kitchen islands, or in commercial spaces like restaurants and pubs, the foot rail swing leg bracket not only enhances the overall aesthetics but also provides a functional and hassle-free solution for foot rail installations.
Foot Rail Swing Leg Bracket 1.5" - All finishes
has a rating of
4.3
stars based on
3
reviews.
The fit and installation was easy and straight forward. Excellent look.