Cut to Length Oil-Rubbed Bronze foot rail tubing 1.0" OD
has a rating of
5.0
stars based on
1
reviews.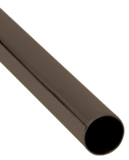 SALE
CLICK IMAGE AND SCROLL FOR PRODUCT SPECIFICATIONS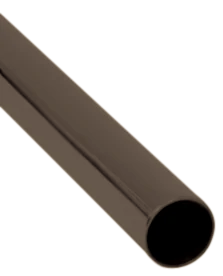 Cut to Length Oil-Rubbed Bronze foot rail tubing 1.0" OD
CFM Certified Heavy Duty Commercial Grade
Oil-Rubbed Bronze foot rails are finished in a deep, rich,  satin chocolate brown that provides a tasteful accent to most wood tones; light, dark or in-between.
Perfectly imperfect, your foot rail's oil-rubbed bronze finish will enhance the look of any room without dominating the decor. Oil-Rubbed Bronze captures the timeless beauty of old-world artisanship. Specifically formulated for foot rail use, our commercial-grade oil-rubbed bronze foot rail finish is among the most durable in the industry.
High quality, commercial grade foot rail tubing in lengths that make sense .
(note: 1.0" finishes are done to order and require 12-15 working days for completion)
We do understand that customers often want or need to cut tubing to size in the field, especially building professionals.  Nevertheless, if you're unsure, it never hurts to discuss your needs with one of our professionals.  We'll ask for some details about your project and make suggestions that will optimize shipping, reduce waste and lower your costs.  A few minutes on the phone with a product specialist can result in a more professional job, regardless of your experience or skill level. There's no charge or obligation (we won't even ask for an order). And if you think your job is too small to be of interest to us, think again.
Need even more precision ?
Give us a call and we'll cut your tubing to spec.  All cuts are made to a +/-.25" tolerance.
Need longer lengths?
Again, just give us a call.  We can ship tubing in lengths of up to 20' or more. The online restriction of 8' is there only due to shipping restrictions imposed by the shipping carriers' ground services.
Cut to Length Oil-Rubbed Bronze foot rail tubing 1.0" OD
has a rating of
5.0
stars based on
1
reviews.