Flush 90 (2.0") - All finishes
has a rating of
3.5
stars based on
2
reviews.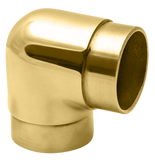 SALE
CLICK IMAGE AND SCROLL FOR PRODUCT SPECIFICATIONS
Flush 90 (2.0") - All finishes
CFM Certified Heavy Duty Commercial Grade
Flush 90 (2.0")
Finishes (Polished, Brushed, Satin, Powder Coat and Plated)

Finishes for the same or different components and tubing may exhibit variations in tone or hue.  The variations are always complementary but will vary depending on the type of material, the process used in finishing and the number of steps used for the specified finish.

For example, tubing, brackets and components that are made from the same alloy are typically produced by different foundries. Small variations in the alloy composition will result in differences in color and hue. Also, the method used in production (extrusion vs. casting)  will impact the look of the finished product.  Finally, additional coatings applied to the various products may result in different reflective properties and affect the finished look.  These variations are common and to be expected.
Flush 90 (2.0") - All finishes
has a rating of
3.5
stars based on
2
reviews.
Easy to order, came fast.
Nice quality, thick metal. Ordered the polished brass. Liked that it is solid brass not plated.