Partition Posts with Glass Clips - 2.0" OD tubing
has a rating of
5.0
stars based on
1
reviews.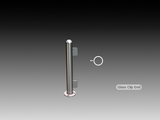 SALE
CLICK IMAGE AND SCROLL FOR PRODUCT SPECIFICATIONS
Partition Posts with Glass Clips - 2.0" OD tubing
CFM Certified Heavy Duty Commercial Grade
Partition post with 1/4" or 3/8" glass clips.   Recommended spacing is 3'-4'.  Your choice of end, center, corner, 3-way or 4-way post with domed or flat top. Standard height is 16" from base to top of tubing.  Can be configured at any height, configuration or finish. Standard position of glass bottom is approximately to top of flange neck.  If you don't see exactly what you need, please call 877-747-2457 for assistance.


All products offered for purchase, including but not limited to brackets, elbows, hooks, end caps and posts are based on current inventory and may differ slightly in look and dimensions from illustrations provided or displayed on our website. All stock specifications are nominal and actual dimensions may vary slightly by lot. Components which are available in brass only may be nickel-plated or chrome-plated and brushed where satin or brushed stainless steel has been specified. The terms "Brushed" and "Satin" are considered equivalent and used interchangeably. Descriptions of products that refer to finishes such as Oil-Rubbed Bronze or Matte Black refer to the type of finish applied to the product and may not necessarily refer to the actual metal from which the products are constructed. Length of tubing may be segmented to accommodate shipping requirements. Tubing segmentation assumes that there is no requirement to position brackets at specific points along perimeter of bar face, unless otherwise specifically noted by customer.
Partition Posts with Glass Clips - 2.0" OD tubing
has a rating of
5.0
stars based on
1
reviews.