Foot Rail Kit - 1.5" OD Polished Stainless Steel
has a rating of
5.0
stars based on
2
reviews.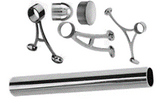 SALE
CLICK IMAGE AND SCROLL FOR PRODUCT SPECIFICATIONS
Foot Rail Kit - 1.5" OD Polished Stainless Steel
CFM Certified Heavy Duty Commercial Grade
Your polished stainless steel foot rail package is delivered, pre-cut and ready-to install.   Online ordering permits you to specify the length needed, down to the inch.  We will automatically include the length of the end caps in the dimension you specify, so the total length of foot rail when installed will be exactly the size you requested.  If you require a measurement to the 1/8" just give us a call and we'll be happy to cut to your required length at no additional charge.
Note: Brackets and end caps shown in pictures are for illustrative purposes only.  Every package comes with a selection of brackets and end caps.  The brackets and end caps you select are the ones that will be delivered with the package. 
Every polished stainless steel foot rail package   For example 4' packages or less come with 2 brackets, 5' through 9' packages come with 3 brackets and so on.  If you are unsure of the number of brackets in you size or configuration, please call.with your selection of brackets and end caps.  The number of brackets is determined by the length of the foot rail. Brackets are spaced at approx. 4' or less.  Never more than 4' 6". 
To see some examples of the configurations we use for the various kits,  simply click on the foot rail image on this page and scroll through the various sizes.  All foot rail kits are configured similarly, utilizing efficient tubing lengths for shipping while maintaining uniform bracket spacing for proper support,  as well as aesthetics.  Internal splices are used to join tubing segments and brackets are positioned to cover all seams.  Your finished product will be strong and professional looking in every way.
It's important to note that our pre-configured foot rail kits may not be suitable for every bar style and layout.  For example, your bar or kitchen island may have panels or molding with which you want to align brackets.  Therefore, we may have to cut the tubing differently or add a bracket or provide some other modification so that your foot rail kit is the right fit for your bar.   If you have special requirements that need our attention simply give us a call at 877-747-2457.  We'll create a foot rail kit that is a perfect match for the layout of your bar.
Foot rail kits are designed for use on single-sided bars or for bars with multiple sides that will not be connected to one another.   If you have a bar with multiple sides and would like a package that is pre-configured to wrap around all sides, call us and we'll put that together for you.  You can also use our Quick Quote system to get an estimate on cost.
In addition to the finishes available online,  all of our bar foot rail kits are available in dozens of Antiques and Duracoats.  Every product is available in ANY finish!  See more about FINISHES.
Foot Rail Kit - 1.5" OD Polished Stainless Steel
has a rating of
5.0
stars based on
2
reviews.