Cut to Length Satin Brass foot rail tubing 2.0" OD
has a rating of
5.0
stars based on
15
reviews.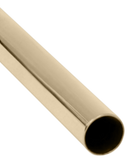 SALE
CLICK IMAGE AND SCROLL FOR PRODUCT SPECIFICATIONS
Cut to Length Satin Brass foot rail tubing 2.0" OD
CFM Certified Heavy Duty Commercial Grade
High quality, commercial grade foot rail tubing in lengths that make sense . 
How much tubing do you need?  3'? , 4' 7" ?,  6' 9" ? 7' 10"?   4Rails.com offers tubing online in the sizes you need for your job.  And there's never a charge for cutting.  Online, most tubing is available in sizes from 1" to 95"  and every 1/4 inch in between.  So if you need 5' 7", there's no need to buy an 8' tube and cut it yourself.  We'll do the cutting for you, at no additional charge and chances are the finished product will have a more precise cut with cleaner edges. 
We do understand that customers often want or need to cut tubing to size in the field, especially building professionals.  Nevertheless, if you're unsure, it never hurts to discuss your needs with one of our professionals.  We'll ask for some details about your project and make suggestions that will optimize shipping, reduce waste and lower your costs.  A few minutes on the phone with a product specialist can result in a more professional job, regardless of your experience or skill level. There's no charge or obligation (we won't even ask for an order). And if you think your job is too small to be of interest to us, think again.
Need even more precision ?
Give us a call and we'll cut your tubing to spec.  That is, to .125 of an inch or closer and there's still no charge for cutting. 
Need longer lengths?
Again, just give us a call.  We can ship tubing in lengths of up to 20' or more. The online restriction of 8' is there only due to shipping restrictions imposed by the shipping carriers' ground services.
Cut to Length Satin Brass foot rail tubing 2.0" OD
has a rating of
5.0
stars based on
15
reviews.
Excellent Quality
Fast delivery, Excellent quality will shop there again
Bar rail
Great experience all the way around, price quality and speed of deliverary. Thanks!
Amazing!
Product is amazing and working with 4Rails (Alex especially) was a breeze. Would highly recommend to anyone looking for bar footrails.
Thanks so much for your kind words, Your bar looks great. Nice job!!! We're very happy to have been able to serve you. Alex received your review and is most appreciative.
Very nice quality
The Satin/Brushed finish was exactly what I was looking for. I wanted the look of brass but didn't want the high shine. Perfect. Thank you.